Return
Case Study
6 Jetbroom 10000 T at Grand Rapids
The problem
Gerald R. Ford International Airport located in Grand Rapids, USA, is the second biggest airport in Michigan. Serving flights to about 29 popular destinations for a total of 120+ daily flights. The harsh winter conditions surrounding the Grand Rapids area make it challenging, for the snow removal team, to keep the runways open. The blizard-like weather can also accompanied by a phenomenon most commonly called 'lake effect snow. Lake-effect snow is produced during cooler atmospheric conditions when a cold air mass moves across long expanses of warmer lake water. The lower layer of air, heated up by the lake water, picks up water vapor from the lake and rises up through the colder air above. The vapor then freezes and is deposited on the ground. In no time can the Gerald R. Ford International Airport runways be covered in snow.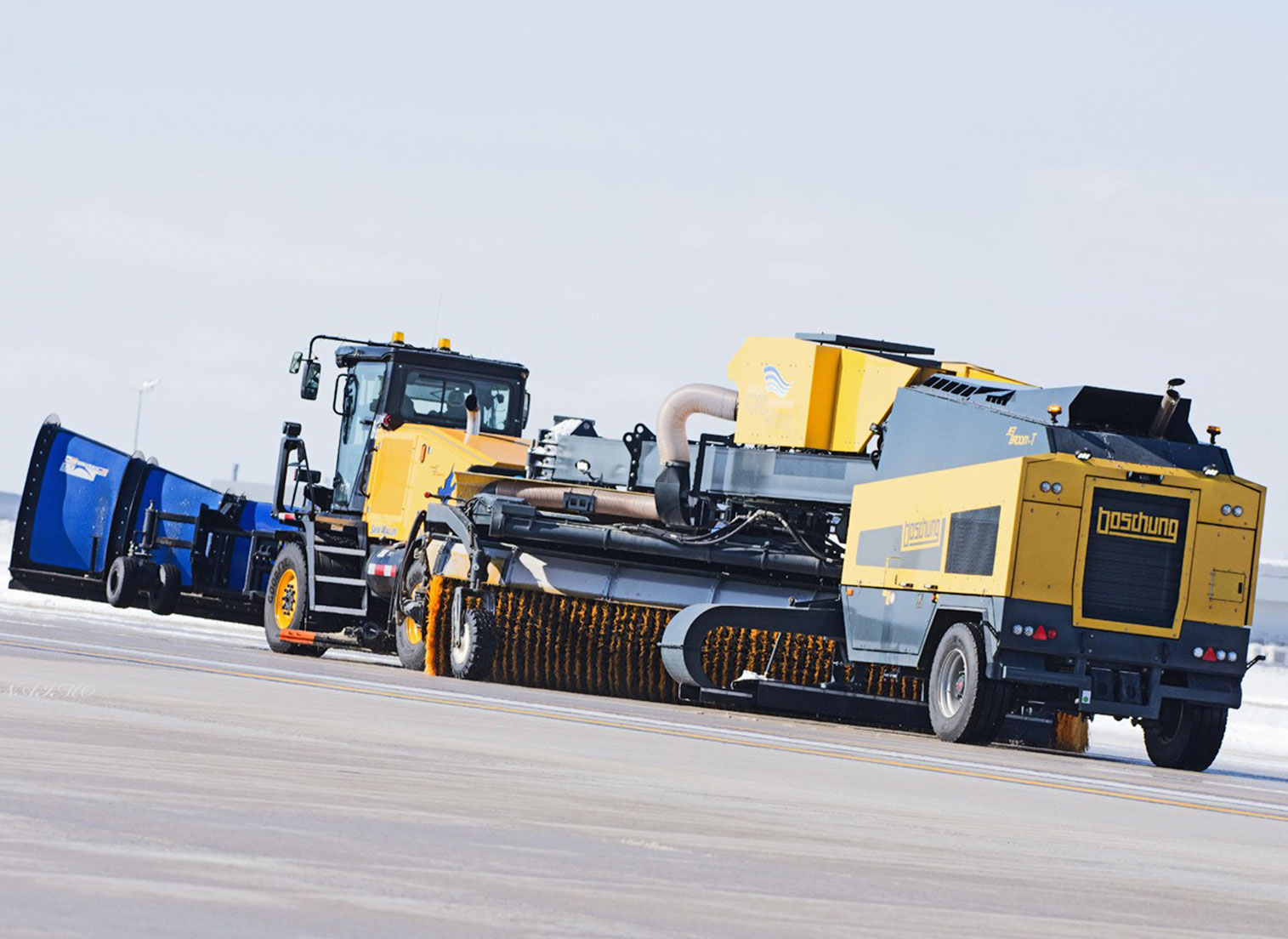 The Boschung solution
To respond to the recuring problem, the Gerald R. Ford Airport snow removal team has equipped itself with 6 units of powerful and high-performance clearing systems: ATI's Snow Mauler trucks each towing a robust Jetbroom 10000 T. With its newly engineered towed chassis concept the Jetbroom 10000 T holds a brush equipped with the new and patented Quattro-Jet system. The new Boschung developpes technology enables a larger clearing width and an accelerated work speed during the most extreme winter conditions. With this perfect combo, runway clearing at the Gerald R. Ford Airport can now be done with maximum efficiency at approximately 25mph where previous equipments only reached about 9-12mph. Clearing time was reduced by 21 minutes, what previously took the snow removal team 30 minutes and two passes to do, can now be done in just 9.6 minutes.
Testimonial
"At the Gerald R. Ford International Airport we pride ourselves on creating exceptional travel experience for our passengers, and growth and prosperty for all of West Michigan. Part of that travel experience is safety and security, and through our partnership with Boschung we have had quality equipment that is safe and operational in maintaining our airport grounds."
Mrs. Tara M. Hernandez, Marketing & Communications Director Gerald R. Ford International Airport Authority, Grand Rapids